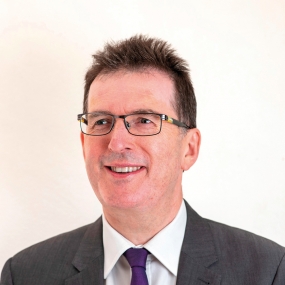 Lawrence Mudford
CPOC Patient Representative
Lawrence Mudford has had a 38-year healthcare career working as a dentist and dental educator within both primary and secondary care. This has included serving on the board of the Faculty of General Dental Practice and as a member of the General Dental Council.
Part 3: Mental resilience
In this final blog on the effects of COVID-19 and how prevention links into three areas where we can take control of our lives, I want to focus on the area that is sometimes left unasked and unanswered - mental health.
Monitoring our own mood
7 days of isolation. 14 days of isolation. 12 weeks of isolation. Who would have ever thought that we would be seeing these stark recommendations in the UK? How on earth could we have imagined that we would be prepared to carry them out?
And yet, behind the figures, there is a question so far unasked. What will be the effect of these sensible restrictions on contact with other people be on our ability to cope, function and maintain a positive mental outlook and attitude in the face of COVID-19?
Some of the most important lessons I learnt from my cancer diagnosis wasn't how to walk around the block post op; it wasn't how quickly can I get back to work (too quickly I later found out!), it wasn't even how to suddenly become an expert on catheters post op (sorry, too much information). It was how to tell when my mood was lowering; how to support the emotional rollercoaster of my own parents and my family as they faced a son, a husband, a dad, who had been in good health before a series of tests; and how to come to terms psychologically with the changes that a prostate cancer op would inevitable bring me. In short, it was the attack on my mental health that was the battleground where I won a few battles and lost a few skirmishes.
And that is the unasked and unanswered question now as we look ahead to current isolation, post isolation and post lockdown. How will we strengthen our mental health now, so that when we emerge physically from the virus, we also emerge mentally sound?
For me, there were two stages. One, prevention. The other, professional support. I have experienced both.
Prevention
A substantial part of my healthcare career included supporting others in my role of a mentor. This meant an empathic walk alongside many health professionals who were coping with anxiety, depression and burnout. This virus will bring these three outcomes to the fore for the general public as isolation days become weeks, and weeks months. There will be people who have lost their jobs, loved ones and feel that their identity, often enmeshed in our daily roles, are eroded. And, of course, that is on top of the burgeoning numbers of people who are already struggling with mental health battles each day.
So what does prevention look like in a locked down society and what may people be currently feeling? In many ways it's not too different to how I felt as I struggled to cope on my own with a cancer diagnosis. I quickly felt confused, angry, unable to concentrate and found myself falling into the thought pattern of 'why me?' Does that sound familiar now?
My prevention started when I recognised that there was a central lie that I had told myself - it was all down to me. In fact, I was not alone, no matter how I felt. I had people around me who cared for me, loved me and wanted the best for me. As I raised my head and looked up rather than down, shared my worries with those who cared for me and became more open, life started to improve.
So how can we access this support in a COVID-19 environment? It's a case of connection with others, becoming physically active, supporting others and learning some techniques of mindfulness.
One excellent online resource that is practical and accessible can be found on the NHS Wellbeing website.
I was not alone, no matter how I felt. I had people around me who cared for me, loved me and wanted the best for me. As I raised my head and looked up rather than down, shared my worries with those who cared for me and became more open, life started to improve.
Professional support
But, for many, there will be a need for additional support. Often this will be accessed from professionals rather than online help pages. For me, I accessed professional help twice. Once as a proactive preventive measure, where I chose to see a councillor three times before my operation, knowing that I wanted to build up my resilience to the changes that I would expect from the op, both mental and physical. For many feeling anxiety and worry at present, a proactive approach to their doctor will be a sensible approach and the NHS will be developing a series of Every Mind Matters resources to support people at this time. 
The second time I needed help, was much more immediate and necessary and took place six weeks post op. To cut a long story short I returned to work too quickly and took on former roles when I should still have been in recovery mode. Some of those decisions were mine and some were foisted on me. That's life.
I started to feel sadder, more anxious and panicky, frustrated, more tired than usual and unable to find restful sleep. I gradually felt lower in confidence and self esteem. Not a happy place to find myself. Enjoyment of life plummeted and a feeling of hopelessness ensued.
So what does this mean for the circumstances that we find ourselves now, coping with COVID-19? I guess that many people will either be already feeling some of the things I did or will do as the days and weeks progress.
For me then, and for many in the UK now, it is going to be vital to recognise the signs that lower moods bring.
I was fortunate. I had an understanding GP who quickly recognised where I was mentally, helped me to take steps to remove pressures of work and directed me to a local NHS course, 'Health in Mind' that gave me the foundation stones to understand where I was and supported me through lifestyle changes to grow resilient.
If you are reading this today, and acknowledge some to the signs that I did, there are a lot of free resources for you to start your journey to recovery. 
Postscript
In closing, these three blogs hopefully give food for thought on how we can prepare our bodies and minds in the event of contracting COVID-19, as a preventive measure. At the Centre for Perioperative Care, we recognise the strong links that naturally exist between improved recovery following surgery and recovery from the current virus. In a nutshell, fitter patients are able to improve their health and activity levels more quickly following a medical intervention - be it surgery or COVID-19.
I was so fortunate to have had sound advice from that Macmillan nurse when I was originally diagnosed with cancer. She gave me three areas that I could work on before I underwent surgery - physical wellbeing, lifestyle choices and mental health strengthening.
The same three hold up as sound preventive measures as we wait to see whether we will become patients, sooner than we expected.
Photo by Nik Shuliahin on Unsplash.