CPOC Strategy 2020-2023
CPOC is dedicated to the advancement of perioperative care through focusing on six main strategic themes identified by the CPOC Board.
Our Strategy for the Centre  for Perioperative Care (CPOC) 2020-2023 highlights our vision, who we are, our values and strategic aims. 
Our Vision
To improve the health of people of all ages including children undergoing operations or procedures in the four nations of the UK, by promoting the highest standards of perioperative care for all patients at all stages of their surgical journey. 
Our Values
We strive to be specialists in perioperative care.
We are constructive, collaborative and proactive. We focus on achieving positive outcomes for patients. Working collaboratively, we have an opportunity to improve the lives of patients and populations, for generations to come.
Perioperative care is inclusive and must be forward-thinking. We look for opportunities to innovate and improve, and in doing so, develop national healthcare standards. 
We are ambitious and committed to leading perioperative care.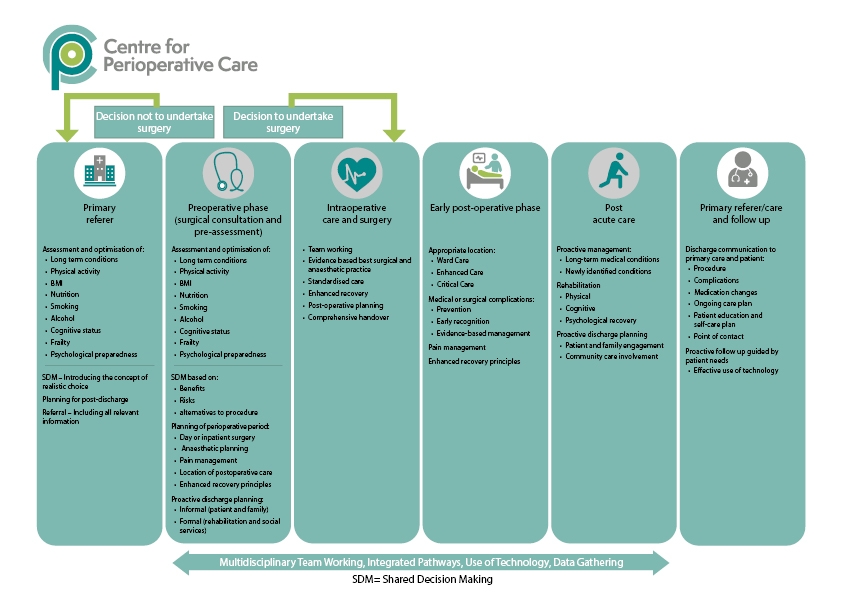 What we will do and our strategic priorities
Our goal is to implement perioperative care pathways across geographical partnerships of NHS providers and commissioners, local authorities and other partners who work together to plan and integrate care. This will enable providers to work collaboratively to deliver seamless patient care and long term population health benefits, realising every opportunity to improve patient health.
Our objective is to embed prevention, including perioperative care pathways and prehabilitation programmes, into routine clinical practice.
We will lead the development of a suite of guidelines with the aim of setting and improving standards of clinical practice. The COVID-19 pandemic has focused attention on optimising care. The CPOC Board will identify relevant topics that align with our strategic goals such as the needs of patients with diabetes undergoing surgery, frailty and day case surgery.
CPOC seeks to improve shared decision making and personalised care for patients: changing the rhetoric so patient empowerment is seen as fundamental to every health interaction. CPOC will create and signpost clear patient information.
Delivering quality perioperative care requires a workforce equipped to manage patients in different healthcare settings and undergoing all types of surgery from minor to complex procedures. CPOC recognises the need for better use of the entire workforce through broader training, cross-skilling and a more flexible approach. Registered staff and students benefit from training in different aspects of perioperative care, shared decision making and motivational interviewing.
We will advocate to improve the patient experience of care and seek to improve population health and healthcare value. As we deliver our work, patient and public engagement will be at the core of all we do. We will make a strong case for the importance of perioperative care to realisation of the NHS Long-Term Plan and similar plans in the devolved nations. In addition, we will encourage transformational change and cross-organisational, multidisciplinary, working.
A rapid expansion in the use and availability of technology and virtual solutions occurred during the recent COVID-19 surge. CPOC aims to build on benefits such as supporting patients in self-care, educating and training the workforce and the delivery of virtual consultations to facilitate and enhance perioperative care.
CPOC will become a leader in research and innovation for perioperative care. We have already collated evidence reviews2,3,4 highlighting the impact of perioperative care and the gaps where more research is needed. We will share data on outcomes from a perioperative care approach. We will present and publish data to different audiences, informing our guidelines and publications.
We will undertake educational research to identify the best methods of working with staff to achieve a successful perioperative care approach.
The CPOC Strategy will be reviewed in 2023 in line with our internal policies. 
If you have any ideas of workstreams you would like to propose under one of our strategic themes please visit our guideline proposal page.
Want to read the full strategy?