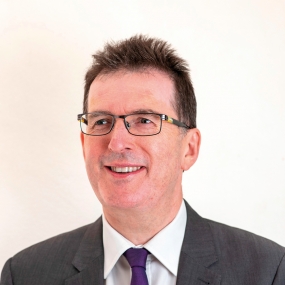 Lawrence Mudford
CPOC Patient Representative
Lawrence Mudford has had a 38-year healthcare career working as a dentist and dental educator within both primary and secondary care. This has included serving on the board of the Faculty of General Dental Practice and as a member of the General Dental Council.
Dates are very important to patients. They stand out as markers for progress, improvement and success, but also for deterioration, disappointment and decline. And they are uniquely personal to that individual.
For me, as a patient, a few stand out:
28 December 2016 – diagnosis results for prostate cancer
30 December 2016 – prostatectomy
12 December 2018 – two years of clear PSA results and onto yearly blood tests.
This reflection helpfully allows me to plot retrospective landmarks in my own personal journey as a patient. So, how can perioperative care support patients through the often meandering journey of hospital appointments, their understanding of decisions around risk and benefits, and the management of expectations?
From my experiences, one of the most important markers that facilitate this support is the process of shared decision-making.
Shared decision-making
The relationship between healthcare team and patient is central to perioperative care. One brings the expertise and knowledge, based on data sets, research and training; the other is an expert of their own values, beliefs and expectations. Between them, goals, options and outcomes can be managed and explored. This is particularly important when weighing up the benefits of an operation or procedure and setting them against the known risks that will be present.
Stories are powerful learning opportunities to reflect on outcomes of individual stages in a patient journey. But on their own, they are just 'stories'. The insight comes from understanding the context, recognising the resulting lessons learnt, and then deciding how to embed these experiences to provide a better patient experience for all patients. The following are real experiences from one such journey of an elderly patient:
A positive example
At diagnosis for bowel cancer, the patient was frail, underweight, anaemic, and bedridden. The perioperative pathway was well established within the hospital, allowing for a multidisciplinary approach to be underway quickly, with integration of the many departments that are needed to drive a process of prehabilitation of the patient before surgery could be considered.
As the patient responded positively to treatment, a cardiopulmonary exercise test (CPET) was discussed to assess her baseline level of fitness. This was clearly explained and a compassionate approach taken to an 83-yearold, an hour appointment being a standard timeframe for this consultant anaesthetist-led exercise. The explanation included an early warning that further tests would possibly be needed in addition to the CPET, and that a final decision for surgery may not be initially forthcoming. Thus, thepatient's expectations were met at an early stage. The exercise was intensive but took account of her frailty, and the testing was successfully completed. With additional testing at a second appointment, it was explained that although the patient's level of fitness was borderline, the anaesthetists were confident to recommend surgery.
A less-helpful example
Following successful colorectal surgery for bowel cancer, it was suggested to the same patient that there may be a small additional benefit in having a six-week course of chemotherapy to deal with any cells that had 'escaped' during surgery. Unsure of what to do, and still frail three weeks after surgery, she sought advice from the district nurse who was attending to support homecare stoma management. The strong suggestion from the nurse was that 'as you have done so well with the surgery, it would be a shame not to have chemo as well.' While this advice was given in good faith, it was directive, didn't take into account an older patient's full needs at that time, and led to the patient expressing to family members a feeling of guilt if she did not agree to the additional treatment.
This was obviously not a good illustration of shared decision-making for the reasons discussed above. When the patient attended her consultant oncologist appointment a week later, the risks and benefits were fully discussed (a rise of life expectancy over five years from 85 per cent to 90 per cent) along with a full explanation of the treatment procedure and side effects. The patient was able to make a more balanced, shared decision, and opted not to have the chemotherapy.
So, how can we positively critique these experiences?
The NICE website describes the benefits of shared decision-making as: 
both those receiving and those delivering care can understand what is important to the other person
people feel supported and empowered to make informed choices and reach a shared decision about care
health and social care professionals can tailor the care or treatment to the needs of the individual.
There are many factors that lead to empowerment of patients in decision-making, coupling the skills, experience and research available in a modern NHS care pathway with patients' wishes and expectations.
A symbiotic relationship will always benefit patient outcomes. A positive appreciation of the role of all parties involved in perioperative care is therefore the answer to all of the questions that arise to guide a successful patient journey.