COVID-19 and Perioperative Care
Many of the concepts of Perioperative Care are applicable to COVID-19
CPOC advises the public, particularly adults in a 'vulnerable high-risk group' to prepare for the possibility of contracting the virus in the same way that you would for major surgery.
 
In the midst of a global pandemic, CPOC is calling for the public to prepare themselves for the possibility they will contract COVID-19, in the same way they should prepare for an operation.  We encourage the public to exercise and stop smoking during this time to increase their ability to cope if they contract the virus. 
Background
In late December 2019 a new (novel) coronavirus was identified in China causing severe respiratory disease including pneumonia. It was originally named Novel Coronavirus and The World Health Organisation (WHO) advised the following language associated with the virus. The virus causing the infection has been named - severe acute respiratory syndrome coronavirus 2 (SARS-CoV-2).
The disease caused as a result of infection is named - coronavirus disease (COVID-19). COVID-19 has been categorised as an airborne High Consequence Infections Disease.
SARS-CoV-2 is spreading between people globally and can be seen on the WHO situation reports dashboard which is updated daily.
As a newly identified virus there is currently no human immunity to it and no vaccine is available to prevent infection. As a viral infection, antibiotics are not an effective treatment.
Symptoms include
fever, fatigue and dry cough is likely in the early stage of illness, however some patients may not progress to more severe illness. WHO reports that 25 per cent of confirmed cases are severe
dyspnoea is said to be common in hospitalised patients, while vital signs are reported to be generally stable at the time of admission. Older patients with an underlying health condition are more likely to progress to severe infection
a variety of abnormalities may be expected on chest X Rays, but bilateral lung infiltrates appear to be common, similar to what is seen with other types of viral pneumonia.
Current situation
On 5 March 2020, the UK Government listed Coronavirus (COVID-19) as a notifiable disease. This change in law requires GPs to report all cases of COVID-19 to Public Health England. The number of UK cases and latest test figures are updated daily by the UK Government. As of 12 March, 2020 the United Kingdom is currently in the 'Delay' phase of managing this virus. During this time, case identification, contact tracing and isolation is important.
We are in a fast-moving evolving situation and as with any new strain of virus, the guidance for healthcare workers and health and social care services is being developed and updated frequently. This reflects the need to take a view of the global situation and our growing understanding of infection risk of this new virus; incubation time, infectiousness and severity of the infection.
Guidance for Patients
Click here for Guidance for patients having an operation during the COVID-19 pandemic.
People are more likely to be admitted to intensive care or to die if they smoke, have medical conditions or are unfit. In China they found less fit people with medical conditions were five times more likely to have a worse outcome from COVID-19 and smokers three times more likely to have this result. The public, particularly adults in a 'vulnerable high-risk group' should be getting some exercise, so that if they catch the virus, they are less likely to need intensive care and we hope also less likely to die.
Families need to support each other. People who feel they are doing something also often feel more empowered and in control.  People who exercise have better mental health.
Key messages
stop smoking. The craving only lasts three minutes.
do exercise unless you are unwell with the virus: Ideally brisk walking, cycling, electric-bike or jogging. Over-70s ARE allowed out – keep 2 metres from others and don't touch anything. If indoors, try moving in a different way, eg dancing or using a video programme. Every minute is worth it. 
do strengthening exercise and balance: walk up and down the stairs, do squats and practice sit-to-stand.
nutrition: It takes 20 minutes to register that you are full, so try smaller portion sizes. Sugary snacks and carbohydrates make hunger return quicker, so plan ahead. People with obesity fare worse with lung infection
mental health: Sleep well, allow each other space, don't do or say the first thing that comes into your head. Breathe.
alcohol: Have alcohol-free days. Alternate alcohol with a soft drink. Try to break the spell.
Set up good habits. Fix it in a schedule, for example 20 minutes of daily aerobic exercise. There are lots of videos online.
As well as saving serious illness and NHS capacity now, we are also asking the public to prevent the ill-health they are building up, in an attempt to guard against more diabetes, hip fractures, mental ill-health and need for social care when the current crisis eventually ends. This includes those patients waiting for their cancelled elective surgeries, who are asked to do something every day to be ready for when the NHS is ready. 
The government advice, on gov.uk is arranged by category and exercise once a day counts as an 'exception' for people to get out of the home:
people who have symptoms – stay home, don't leave for 7 days
people who are household contacts of someone with symptoms – stay home for 14 days 'If possible, you should not go out even to buy food or other essentials, other than exercise, and in that case at a safe distance from others.'
Adults, including over 70s - 'look for ideas of exercises you can do at home on the NHS website. Try to exercise regularly. You can also go for a walk outdoors if you stay more than 2 metres from others.'
1.5 million people have recently been notified that they have a very high risk of severe illness if they contract COVID-19 because of particular conditions (eg bone marrow cancer, cystic fibrosis or undergoing immunosuppression therapy) - they have been advised to stay in their home. They should exercise at home.
The public has been great about hand washing and social distancing.  We want people to realise that for anyone who doesn't have symptoms, stopping smoking and getting out to exercise 2 metres away from other people is an exception to 'isolation'.
We recommend our resources on 'FitterBetterSooner' which are used by patients preparing for an operation, to reduce the severity of COVID-19 for themselves and their families.  
Other guidance
Patients may also find the following guidance and resources of interest:
The public, particularly adults in a 'vulnerable high-risk group' should be getting some exercise, so that if they catch the virus, they are less likely to need intensive care and we hope also less likely to die. 22% of the UK population has a disability and 14% are over 70 so this is about families working together.
Clinical guidance
Clinicians should familiarise themselves with their Hospital or Trusts' policies and procedures regarding emergency planning, infection prevention and control and other relevant guidance in addition to any clinical guidance issued by the UK Government. Information on public health websites are updated regularly, so it is important that clinicians review these websites, ensuring they are seeing the most up-to-date information.
The expected surge in the number of COVID-19 patients requiring critical care will mean that intensive care resources in many NHS hospitals and Trusts will undoubtedly be put under severe pressure. The Government's 'Delay' phase in its COVID-19 Action Plan provides a small window of opportunity for intensivists and anaesthetists to work even more closely together to prepare for this surge by laying down plans to:
increase critical care capacity
review clinical guidance
allow time for staff to refresh skills with some protected time for training
identify requirements such as the need for more ventilators, more critical care rooms and, importantly, the redeployment of nurses and doctors to provide additional patient care.
Working in collaboration, the Royal College of Anaesthetists, the Faculty of Intensive Care Medicine, the Intensive Care Society and the Association of Anaesthetists are urgently reviewing and revising clinical guidance to provide the UK intensive care and anaesthetic community with up-to-date clinical information, guidance and resources needed to better understand and manage COVID-19. 
The four partner organisations have created a single website for guidance for anaesthetists and intensivists: www.icmanaesthesiacovid-19.org. 
CPOC would urge all anaesthetists and intensivists to refer to the joint website for updated guidance. This includes:
Other CPOC partner organisations have also produced guidance and resources which may be of interest:
Would you like to see more guidance on COVID-19?
Please visit the joint FICM, ICS, AoA and RCoA website for the latest guidance and developments.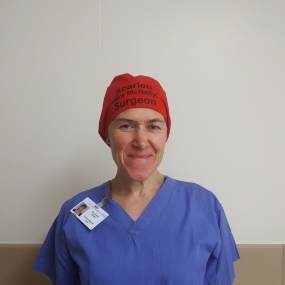 Mrs Scarlett McNally
Deputy Director, Centre for Perioperative Care
Mrs McNally has 18 years' experience as a Consultant Orthopaedic Surgeon at East Sussex Healthcare NHS Trust alongside being a current council member at the Royal College of Surgeons of England. As well as her clinical commitments she leads on increasing day surgery rates, streamlining the patient journey and increasing the skills of the multi-disciplinary team. Mrs McNally coordinated the Integrated Care Pathways for patients with Hip fractures at Eastbourne and has written patient information leaflets for patients with common conditions.